On Friday, November 13th and Saturday, November 14th, over fifty scholars and activists from the Urban Research-Based Action Network (URBAN) gathered for their second national conference at the University of Massachusetts, Boston. This gathering was sponsored by the Spencer and W.T. Grant Foundations.
Mark R. Warren, associate professor in th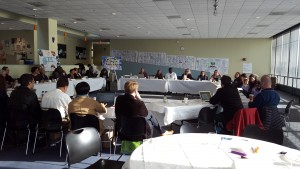 e Department of Public Policy and Public Affairs at the McCormack Graduate School and national co-chair for URBAN, organized the conference along with Lindsay Morgia, a PhD student in the Public Policy department, and members of the URBAN conference planning team. Planning team members include John Diamond at University of Wisconsin, Tim Eatman of Syracuse University, Ron Glass of UC Santa Cruz, Michelle Fine of the CUNY Graduate Center, and Celina Su of the CUNY Graduate Center.
The two-day conference began with a pre-conference event on the evening of Thursday, November 12th hosted by URBAN Boston and Youth Hub in the Codman Square neighborhood of Dorchester. During this event, Youth Hub shared their model of youth participatory action research and how they are using survey data collected in their neighborhood to address the issue of youth unemployment. A group of 40 community members and scholars attended this event. Learn more about Youth Hub's work by clicking here.
On Friday, November 13th, Dean David Cash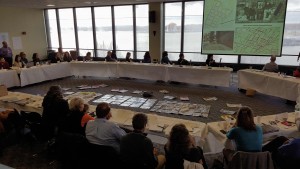 welcomed the scholars and activists to UMass Boston and praised the group's commitment to collaborative research with communities. Conference attendees then heard from three collaborative research teams from across the country to learn more about their work. These teams included the Morris Justice Project from New York City, focusing on criminal justice issues in the South Bronx, Youth Hub from Boston, and a team of scholars and activists working on issues of school closings from New York, Philadelphia, and Baltimore. These teams gave conference participants a chance to ground the discussions in real-world examples of collaborative research work. URBAN is grateful to these scholars and community members for sharing their work and experiences with our conference participants.
For the r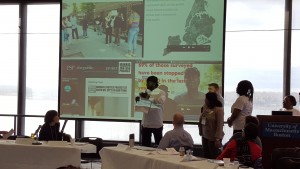 emainder of the conference, participants discussed many different topics, including the benefits and challenges of community-based research for both community members and those in the academy, issues of race and racism in collaborative work, and the benefits and challenges of taking a multi-issue, multi-disciplinary approach to research and activism. Participants engaged in both small and large group discussions and engaged in other interactive approaches, including use of the arts and technology to foster ideas and conversation. Finally, as a part of URBAN's commitment to action, conference participants gathered to write a letter of solidarity with students at the University of Missouri. We welcome you to read and share this letter with your networks, and thank all of our conference participants for their energy, enthusiasm, and commitment to collaborative research and action.