Urban Research-Based Action Network (URBAN) Gathers for Third National Meeting at The Graduate Center of the City University of New York
On Thursday, March 31st and Friday, April 1st, nearly one hundred scholars, activists, and artists gathered for the third national URBAN conference at the CUNY Graduate Center: Critical Solidarities and Multi-Scalar Powers.
The convening began with a pre-conference Critical Participatory Action Research (PAR) workshop on Wednesday, March 30th. Maria Torre, director of the Public Science Project, and Michelle Fine, Distinguished Professor at the City University of New York Graduate Center, hosted the full-day workshop. Over 20 workshop participants explored the theory, ethics, and methods of participatory action research, and shared one another's projects and experiences with PAR.
 On March 31st, the Gittell Chair in Urban Studies and URBAN national co-chair, Celina Su, opened the conference by highlighting how the assembly of the diverse group of scholars, activists, and artists act as a critical resource for mounting "refusals of neoliberal disempowerment and surveillance." The full opening remarks are available here and the conference program is here. Fathers and Families of San Loaquin opened the first panel, "Liberatory schooling and justice: Dismantling the School-to-Prison Pipeline," with a powerful skit that moved the state of policing of youth–young children, especially boys, as young as five–to the front of the conversation. The following panels, "Making place-making public: Urban transformation, marginality and community" and "Reclaiming the commons: Alternative strategies for racial economic justice," discussed community organizing and artistic efforts aimed at remaking space as public and redefining the politics of our enduring collective institutions.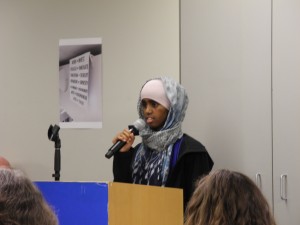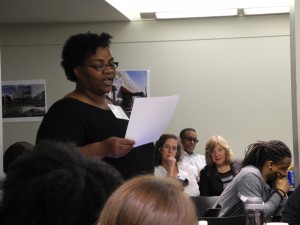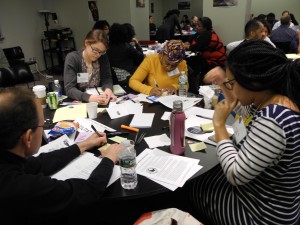 Thursday conclud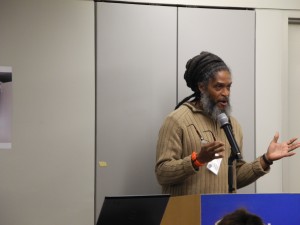 ed with a reception and plenary in tribute to Marilyn Jacobs Gittell, during which some of her former students reflected on the legacy she leaves for them and for community-based research. Charles Price, Associate Professor at the University of North Carolina at Chapel Hill, spoke about Gittell's devoted and loving mentorship of young scholars of color. Liza Featherstone, columnist and writer, discussed current politics of school reform in New York City, tying in Gittell's work in Brownsville. Joyce King, Professor and Benjamin E. Mays Endowed Chair for Urban Teaching, Learning and Leadership at Georgia State University, suggested that part of URBAN's role in continuing the Gittell legacy should be to teach the history of engaged scholarship. Phil Thompson, Associate Professor at the Massachusetts Institute of Technology, also recalled the impact of Gittell's mentorship on his career. Thompson argued for the revitalization of labor unions beyond its collapse into a "mindless bureaucracy" narrowly focused on neogtiating contracts with employers and into a movement that would include the struggles of communities of color: "if abolition wasn't a labor movement then I don't know what is".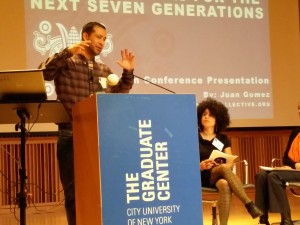 Friday, April 1st began with the panel "Within and beyond the nation: Reimagining immigration politics," brimming with critical conversations on the racial dynamics, intersectionalities, and potential solidarities in confronting injustice, especially vis-à-vis organizing funders as well as the state. Throughout the two days, participants also met in small groups to strategize on the benefits and challenges of community-based research for both community members and those in the academy, how to build an educational justice movement across issue and discipline, issues of race and racism in collaborative work, and using a human rights framework to challenge state-sanctioned violence against communities of color.
URBAN is a multi-issue, multi-disciplinary network of scholars and activists committed to advancing community-engaged research in education and other policy areas. This gathering was sponsored by the Spencer and W.T. Grant Foundations, the Nellie Mae Education Fund, and the Marilyn J. Gittell Chair in Urban Studies.
Planning team members organized the conference, including: José Calderón, Julio Cammarota, Daniel Carrillo, John Diamond, Timothy Eatman, Michelle Fine, Ron Glass, Álvaro Huerta, Paul Kuttner, Lize Mogel, Lindsay Morgia, Celina Su, Ben Teresa and Mark Warren.